Over the course of more than 30 years, I have had numerous achievements, both in large and small corporate settings as well as my own entrepreneurial adventures. Manufacturing, Telescopes, Astronomy, Computers and Fountain Pens have always been my passion (what a geek!). Anyway - here is just a fraction of my personal history:


Education:
Kingswood Preparatory School, West Hartford, CT
Boston University, Boston, Ma
1974-1981 – General Manager - Criterion Scientific Instruments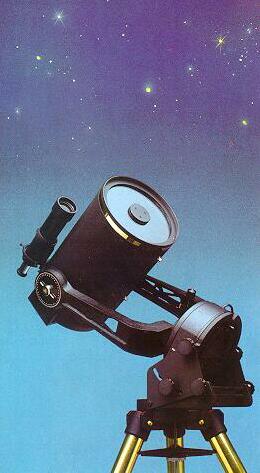 Criterion Scientific Instruments made precision optics and optical instruments for both consumer and government use. Some of the products were Microscopes, telescopes, and various other specialized and custom made optical systems and precision optical components. After a few years, I became a well known in this field and published numerous technical articles in various trade journals and also consumer magazines specific to the industry such as Popular Astronomy. As General Manager, I had bottom line responsibility for the entire manufacturing operation.
In addition to daily management duties, one of my primary responsibilities was to develop and implement computer information systems technology at the plant. This involved setting up and maintaining computers and computer systems for all phases of the manufacturing facility including inventory control, accounting and quality control. Back in those days, PC's were scarce and expensive and ran only DOS - so this was not an easy task.
Another major accomplishment in my career was the implementation of computerized machine tools in the machine shop. This extremely high tech machinery was made by SEIKI Corporation and required complex programming to automatically produce both two and three axis component parts with extreme degrees of precision in a fully automated production environment.. After successfully graduating from the SEIKI Corporation Computer Programming School, I became the master programmer for all machine parts made at the plant. This was only temporarily until all the parts were programmed and other technicians were trained and all procedures documented - but the experience was invaluable. As computer technology moved ahead, I was responsible for implementing the latest technology in every area of the Company - Machine Shop, Optical Shop, Accounting and Administration.
When all was said and done, the improvements I made through manufacturing efficiencies created savings of over 150,000 dollars annually with an increase in production of over 200% (without adding a single employee).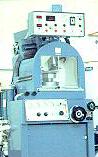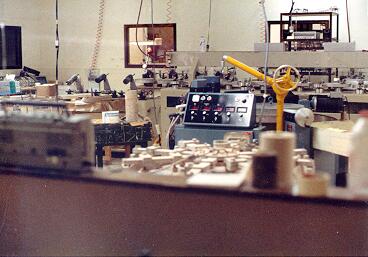 Here is a photo of a small portion of the Optical Shop showing some of the most sophisticated computer controlled equipment in the country at the time - much of which was proprietary and designed and engineered in house. It was taken behind a window because the entire room was a "clean room" environment - sealed against dust, moisture, temperature variations, etc. In the shop, we produced optical components to manufacturing tolerances of millionths of an inch!! In fact, the optics were so precise, their accuracy could only be measured by laser light. We routinely produced optics that were accurate to 1 tenth of one wavelength of light. I had a very large part in developing the production methods by which this was done in volume on a daily basis (that resulted in a US Patent) and special testing devices like the special laser collimator I built pictured below.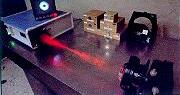 1981-1986 – Vice President & General Manager – Bushnell Div. of Bausch & Lomb

As VP/General Mgr of the Bushnell Division of Bausch & Lomb, I had bottom line responsibility for every aspect of the
company, including budget, marketing, manufacturing, Human Resources, plant safety, administrative, etc., etc.

The facility was a manufacturing plant and a satellite division of Bausch & Lomb – a fortune 500 Company that was extremely interested in computerized information technology (which was not hardly developed yet). Although B&L was headquartered in Rochester, NY, we were a satellite entity of the Bushnell Division headquartered in Pasadena, Ca. So, even though our facility was in East Hartford, CT, I had to report to Corporate headquarters every other month in Pasadena for a week or two (too bad in the winter - huh?). The plant produced scientific, ultra high precision optical products for both government and consumer use. I was responsible for all areas - but management was most interested in giving me the special responsibility of developing new computer systems for both management and manufacturing. The plant produced complex optical instruments that involved implementing new computerized optical machinery to both manufacture and test precision optical components. I was responsible for developing new and sophisticated computerized laser-testing devices, manufacturing methods and equipment and also developed a computerized telescope that would automatically move to a specific location in the night sky directed by a microprocessor that was programmed with every known stellar coordinate (for which I received a US Patent). Another responsibility was to set up a complete modem communications network with several of our main management offices in Pasadena, CA and Rochester, NY. for corporate reporting purposes. Although this is simple for us using today's technology - back then it was almost unheard of!! Remember - there was no Microsoft Windows - not even 3.1!!! We worked with UNIX boxes and mainframes.


1986-1988 – Vice President of Marketing – Bushnell Division of Bausch & Lomb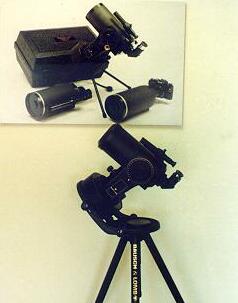 In late 1985, in preparation for Halley's Comet, a decision was made by senior management for me to transition my operational responsibilities to a new Plant Manager so that I could focus entirely on what we perceived to be the largest potential marketing tool ever to hit the telescope market - a once in a lifetime comet. As such I was made VP of marketing with the express understanding that I would always be available to assist with plant operational issues on a consulting basis. Why me? Because it would take an expert in both the proper equipment to use as well as how to use it to effectively market the instruments we wanted to sell, which included a special line of telescopes, binoculars and telephoto lenses. And, I was one of the few people having the complete knowledge of every technical aspect of viewing and photographing this amazing comet - which is exactly what would be needed to entice the general public into buying our optical products. I began holding press conferences (the most memorable was at the "Tavern on the Green" in Central Park, NY) and made numerous TV appearances to talk about viewing the Comet. I also recruited other renowned experts in the field to be spokespeople for our products, endorse them, and even be on user groups to tell us what the public might want the most. My marketing plan was simple, subtle and quite effective: Myself and several other experts produced a remarkable presentation on the comet and how to see it and photograph it that was interesting, educational and really held your attention. We then booked seminars at major photo stores throughout the US that carried our products, The seminars were advertised heavily in the local papers - we paid for the seminars which were FREE to the public and also paid for the ads. Hundreds would come out at night to these seminars and we would present the show - then subtlety pitch our products by taking everyone outdoors where the scopes were setup for them to look at and through - in some cases we let everyone take their own picture of the moon through the scope. We never pushed the product on them - we educated them and then showed them the ideal product for the task they just learned about and it then sold itself. We sold thousands of units - breaking all previous sales records. We made money - and so did the camera stores hosting the seminar. The camera stores would also benefit by people buying cameras and other peripheral equipment just because it was there. My plan was a huge success and I received a substantial bonus for my efforts. It was hard work though - I spoke all over the country in major cities throughout the US.
Ahhh - but all good things must come to an end sometime: In December 1997 a decision was made by Bausch & Lomb to close this facility. The decision had nothing to do with profitability or performance but was instead a well planned decision by senior management to close all precision manufacturing facilities within the corporation and focus more on contact lenses, solutions and the drugstore markets. At one time Bausch & Lomb was noted for its precision manufacturing and I am proud to have been a part of that. Today it is known only for its sunglasses, contacts and solutions - which was exactly what the long term (25 year) plan called for when they made the plant closing decision. Although I was offered an executive management position in other locations, I was unwilling to move out of state.
But the timing was perfect because I got into the Vitamin business instead (see below)!
1988 – 1994 – President and CEO Harvest Time Vitamins, Inc
As I said earlier, I spent a lot of time in California at our divisional headquarters. I also played a lot of golf there at a local country club in my leisure time after work, weekends, etc. At the club I played a few times with the founder and CEO of Vita Fresh Vitamin CO - a 30 Million dollar Vitamin company. One day he told me he was going to sell his company to Your Life Vitamins - a 500 million dollar Co. (which he subsequently did). He said that his company had a smaller direct mail entity called Harvest Time. They used Harvest Time for direct sales to consumers that did not have local stores to go to. He said that the new company had no interest whatsoever in direct marketing via mail order (they were a huge national marketing chain). I had just been forewarned by management at my company that they would be closing our division - so the timing was perfect!!! I struck a tentative deal over dinner that night to purchase Harvest Time Vitamins and toured "my soon to be new company" the very next day! Did I know squat about Vitamins?? Hell no - what's a vitamin??? But I did know how to manage and run a company and market a product - I had years of training doing just that. And I also knew how to learn and study and become a Vitamin expert - which I did. Within a year I was developing custom formulas for specific purposes - some of which became best sellers and were marvelously popular such as the one shown below at right- MEGA MIGHT. I maintained a direct mail campaign and did my own mass mailings of my 32 page catalog. I did all my own advertising, designed my own catalogs and other direct marketing literature, and was one of the first ever places on the web (when it first became available) to buy p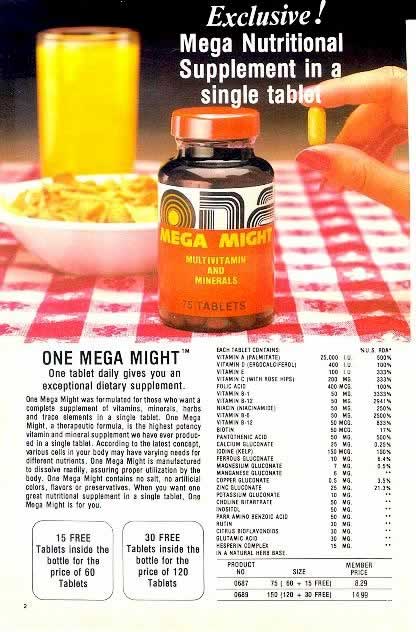 roducts. This did not work too well, however, because no one else had a computer yet!!!! You might say I was ahead of my time. Well - as time went by Harvest Time grew. I found a niche with a few markets and exploited them to the limit. I also negotiated partnerships and affiliations with major companies in New Jersey and New York ( American Pharmaceutical and ADH Health Products). In Connecticut I struck a major deal wit Gold's Gym to manufacture and produce a special diet formulation that they were selling on infomercials late at night (Aspen Wellness Diet). We sold thousands of bottles at a very good markup.

Harvest Time was a fascinating entrepreneurial business experience that you could not possibly learn about in any school no matter how long you stayed in school studying business courses: It involved a real life experience of running absolutely every aspect of a real life business: Marketing, Advertising, Customer Service, Accounting, Finance, Production, Shipping and anything and everything else in between!.

But in late 1993, I realized that I had experienced all the growth that my business could stand without going to the "next big step" which was probably going to be venture capital. I was going to have to invest far too much to take my business to the next level - and I did not want any partners (although I had many people who wanted "in" on what they saw as a great business opportunity). But I made a tough personal decision to sell Harvest Time and move on to another entrepreneurial adventure - Computer Technology.

1994 – 1998 – Computer Consultant and Network Engineer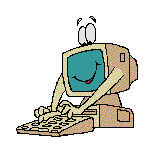 Utilizing PC technology from my previous work experience and certifications, I started my own Computer Consulting company and provided my PC expertise to clients in the Greater Hartford Area. I upgraded and repaired their systems as needed and kept them running smoothly. I designed, implemented and maintained complete office networks for clients and sold and maintained all types of hardware and software for various businesses in the area. I also spent considerable time working as a Network Engineer for RHI Computer Consulting in Hartford, CT.
1998 - 2000 – IT Technical Support Manager
In 1997, RHI Consulting asked me to help on on a "30 day temporary assignment". That month turned into years and I became the IT Technical Support Manager for a large Health Care System. In this position, I was responsible for over 4000 networked devices including PC's, printers, servers and gateways for both LAN and WAN environments.
2000 - Present - Director of IT Technical Services
As Director of Technical Services for a large Health Care System my current responsibilities include Computer Desktop Support, Network Infrastructure, Telecommunications, Multimedia Services and Clinical Engineering Departments.
In my previous business experiences detailed above, I always made numerous improvements in efficiency and technology. I plan to continue on in the same tradition of excellence in my current role.